Adrian Russell Wills on Authentic Storytelling
Writer, director and YCM client Adrian Russell Wills has written an article for Screen Australia's Authentic Storytelling series. Adrian explores finding your voice and being authentically you despite the pressure to conform. See the full article below.
BOYS AND CIGARETTES
I was a child of the blockbuster franchise era, E.T., Star Wars, Indiana Jones, Police Academy, Back to the Future. Going to the movies when I was a kid was an event, so much so that whatever blockbuster movie was playing in the cinema at the time, the entire complex was decked out in that film's branding and extensive merchandise. I remember walking in through those big cinema doors and immediately entering the world of the big screen movie of the day. I even remember when Police Academy was screening the entire cinema staff from the candy bar to the ushers were dressed as police men and women, the candy bar had bars around it with all the merchandise you could dream of – the blue and red lights flashing. It was an event, the complete immersive experience. It's an era I wish the kids of today were able to experience, because it captured your imagination from the moment you stepped foot into the cinema to the moment you left, and then you'd go home and your bedspread was covered in the iconic images from the film, your pyjamas, your lunchbox, it was so much a part of everyday life. The good parts of your life that is. The flip side of this was I didn't grow up as a Cinefile in the same way many of my fellow filmmakers did, which I eventually realised when I went to film school. I was your run-of-the-mill mainstream pop culture vulture: I didn't know about auteurs, or the new wave French cinema or Fellini, George Cukor, I didn't make films with my friends on the weekend using my father's super 8 exetera exetara. I wasn't captured by the technology or the craft of filmmaking or even the idea that making films was even a career. A career??…Please, I was too busy chasing boys and smoking cigarettes.
Until I was in my early twenties and came across two filmmakers who would completely change my entire life in the time it took for their movies to play from beginning to end. There, on the stand in the Australian film section at my local video store (yes I said video) I discovered Jane Campion and Tracey Moffatt. And that was it, I was done. These two visionaries leapt off the shelf at me and took me into the deepest caverns of their hearts and minds exploding everything I thought I knew about films and CINEMA. All of a sudden I was watching the lighting, the costuming, the performances, the camera movement, the production design, the music, the sound…it was like the movie broke up into parts and it all began to make sense to me like it had never ever done before. Looking back I realise the thing that flicked the switch for me was Jane and Tracey's vision, their style, their look, their sensibility, their authenticity. I could see THEM in their work. Shit, it was the first time I could see the work… and I was mesmerised! It was equivalent to the first hit of heroin rushing into my veins. But that's another story for another screen.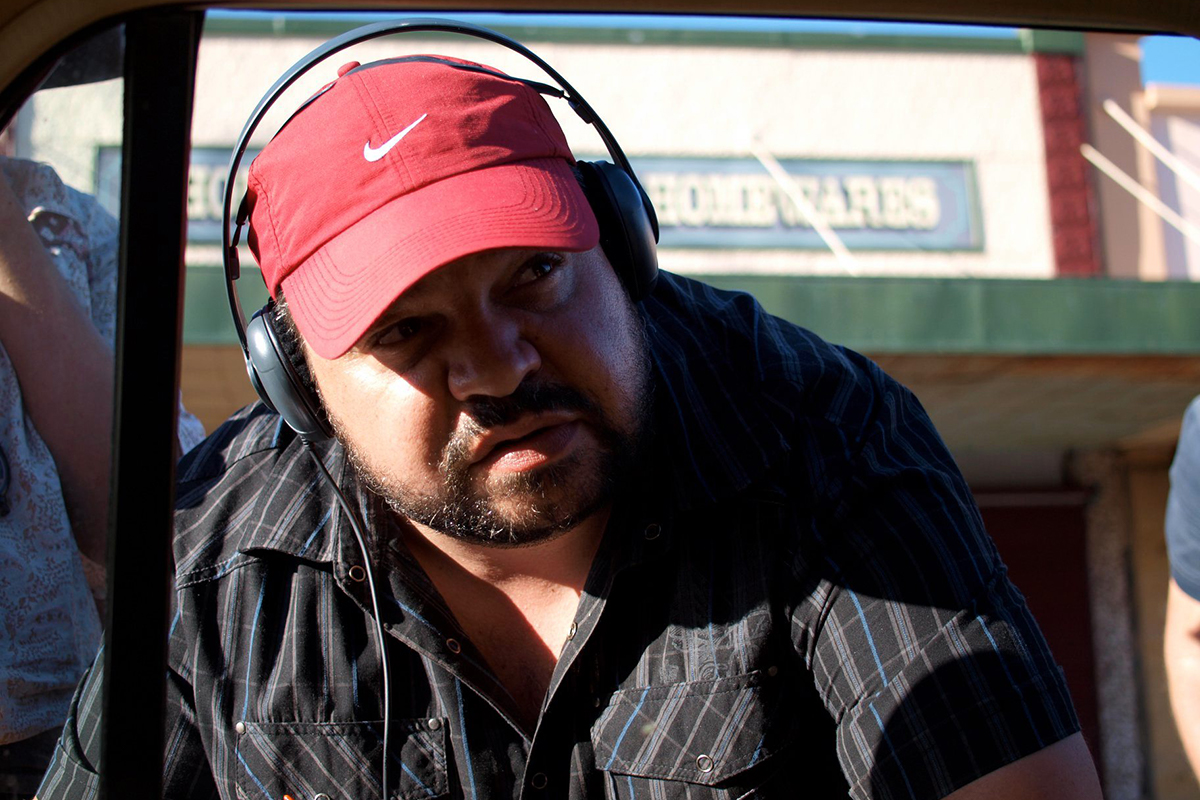 Adrian Russell Wills on the set of his short film Bourke Boy (Photo credit: Phillip Myers)
YOU
The best thing about both Tracey and Jane's work was their visual approach to storytelling. Where I lacked sophistication in the art of Cinema I didn't lack in my knowledge of visual art. Having studied it through school, the visual arts had been a language I felt I knew how to speak, and I recognised that in Tracey and Jane's work. I could look at their work and see their palette, their framing, their contextualisation of the image, I could see their hands on their brush if you like and as I began making my first couple of short films this was how I would translate what I was using in terms of camera, lenses and directing performance. I mean, performance is a great example, as I purposely cast dancers instead of actors for those early years because I could articulate performance through the movement of a dancer's body, that to me was natural. But I could see in Jane's work in particular the detail and depth of her work with her actors, I just didn't have a clue how to do THAT yet.
My first script was a storyboard, along with cut out images from a magazine, not words. So, as the old adage goes, you have to crawl before you can walk, the visual component and tenants of filmmaking started with dance and badly drawn storyboards for me. I was a make-up artist before I was a writer/director. I was really into painting as an expression and way of telling a story and this would and will continue to serve me well later in my career.
So, with incredible encouragement and support from my best friends Gillian Moody and Pauline Clague I applied to AFTRS and was accepted into directing and so began the learning of my craft. I knew nothing about mise en scene, lenses, Stanislavski, story beats but thankfully I knew I didn't know anything and the entire reason I was there was to learn. But as was the case in the rest of my life, I was a slow learner. Now, I could write for pages and pages about what I learnt and from who whilst being at AFTRS but I want to consolidate it all with this single example. At the end of our graduate diploma year (1st Year) each of us had to re-interview to be accepted into 2nd year (masters), and we were aware of this the entire first year, that second year was not a given and you had to earn it. It was quite a stressful part and pressurising element from memory and it was during my interview that my lecturers said to me, we can see you have learnt this and that, there is a basic level of competency in directing performance, coverage etc etc… but we will not be putting you through to second year unless you agree to this one thing. As you can image my heart was dripping on the floor beneath me… and Ross McGregor then said the one thing that would again, change my life forever, If we let you proceed to second year you must spend the entire year listening to your instinct, your gut. So every single decision right or wrong, you have to make that decision solely based on what your gut and instinct says. Now, for many of us we know institutions like NIDA and AFTRS can suffer the reputation of taking what is inherently YOU out and crush that into tiny pieces then rebuild you in their model version. Well, I am one to say that in my case it was the complete opposite. I was given full permission to be ME, listen to MY gut and instinct, and it was to this day the best lesson I have ever learnt in filmmaking. And it came with a bonus lesson, the more you listen to your gut and trust your instinct the more you will learn about YOUrself.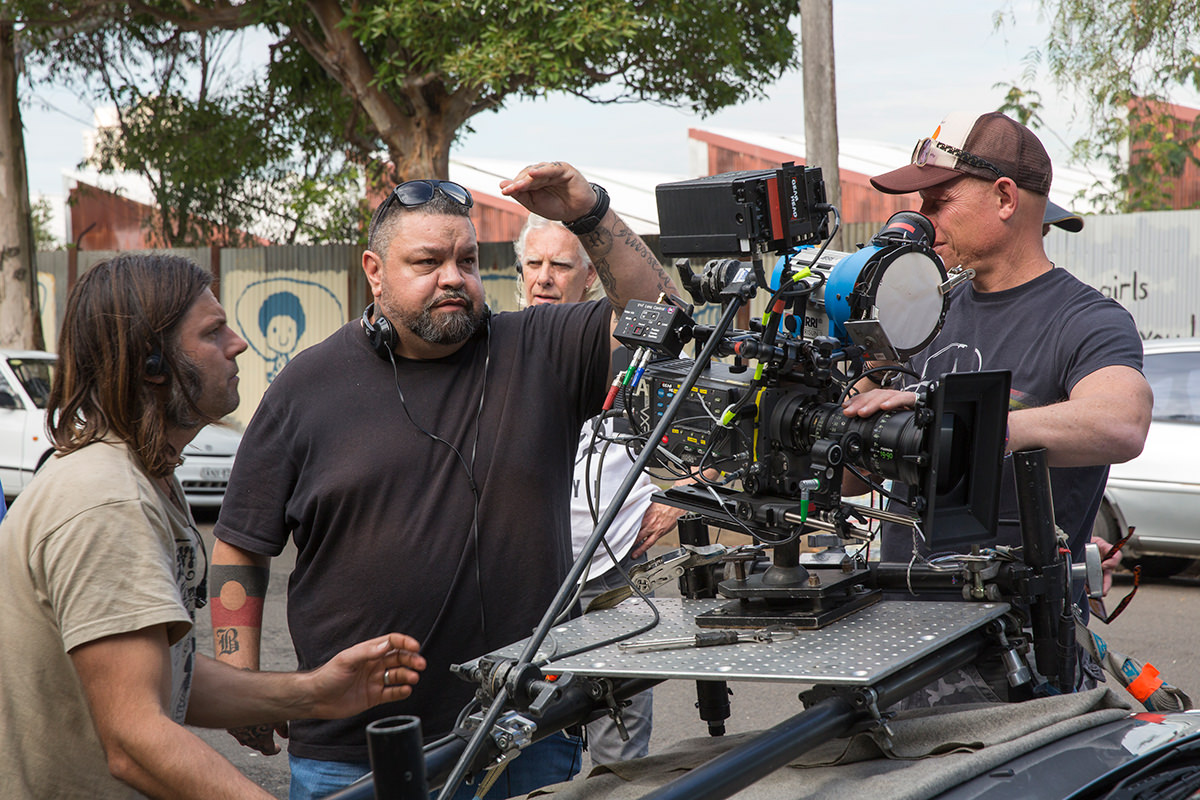 Adrian Russel Wills on the set of Redfern Now (Photo credit: Mark Rodgers)
BLESSING AND A CURSE
So, after leaving AFTRS I set about trying to remain true to myself and continuing my journey into ME and to be brutally honest it has been the hardest part of the filmmaking journey for me hands down. Because being authentically YOU despite the pressure to conform or to deliver what other people are looking for when it's so different to who you are is insane. I am not going to lie. I spent years worrying about not being like this filmmaker or that filmmaker, of not winning this award or that award, being liked by this person or that person only to discover none of that matters a stupid dam. That's not what this life or journey is about and I guess this is something all of us can relate too, and I make this point because the greatest part of my career and the journey that I am absolutely loving being on now continues and remains to be that same journey into myself.
The realisation of this came a few years ago when I had lost all confidence and to be honest had lost my way with all of it. I had sunk down into my greatest fears to find my greatest strength, and from that pit of darkness came the most beautiful light and sense of self. Then opportunities changed, my outlook on life shifted, somehow everything seemed possible again and purposeful. It doesn't mean it got easier, in fact it continues to be hard, but I am learning to like that it's hard. Diamonds are made under pressure baby.
FEAR IS YOUR FRIEND
I now spend my nights going down rabbit holes researching artists I admire and am inspired by today and just like Jane Campion and Tracey Moffatt they continue to reflect back to me the common theme and secret to their success. Be YOU, don't be afraid of YOU, and be unapologetic because at the end of the day that is the only thing you have to offer the world. It might be a simple lesson to learn but I did warn you I was a slow learner and I'm okay with that. Don't worry about what the person next to you is doing, and what other people think of you is none of your business. Focus on YOU, enjoy finding YOU and give it to the world because when you have the stillness of time to sit back and look behind you and see the path you have finished walking down, don't you want to know you gave it all YOU had to give? If you allow me to leave you all with this sage advice: don't be afraid to be yourself, because that is your magic. Especially if it scares you because in the words of one of our greatest artist's this country ever produced, I like to do something I fear (Heath Ledger).