Katie Milwright ACS Featured on Screenhub
YCM client and esteemed Director of Photography Katie Milwright ACS has been featured in film industry publication Screenhub on grit, gratitude and her most recent project. See below for the entire article by Rochelle Siemienowicz.
Katie Milwright ACS on grit, gratitude and getting to the Pilbara
The award-winning Australian cinematographer talks about her 25-year career and the drive that sustains it.
In July this year, Katie Milwright's Instagram showed enviable blue skies and red dirt. The award-winning cinematographer and DP was in Port Hedland in the Pilbara, shooting WA director Jub Clerc's much anticipated first feature film, Sweet As.
Stuck in wintry locked down Melbourne, this window into another hotter, free-er world made me want to interview Milwright about what it was like returning to the Pilbara nearly twenty years after she'd first been there as a clapper loader, on Sue Brooks' Japanese Story (2003).
As Milwright tells it, getting out of Melbourne this time and into WA was an adventure in itself. 'I literally got a phone call one morning saying, "they're going to close the WA border and if we don't get you in tonight we don't know when we can. Pack a bag and get on a plane." It was very exciting.'
She rushed to get her daughter out of school to say goodbye, then spent a couple of not-so-exciting weeks in quarantine in Western Australia, trying to do as much remote pre-production as possible.
Milwright is one of those prolific female DPs whose name always comes up as evidence that we're making progress and getting more women working in a male dominated profession. Since graduating from the VCA in 1996, straight into a mentorship with Mandy Walker ACS, Milwright has built a bright and busy career that owes a little to luck but a lot to hard work, passion and a seemingly unassuming good nature that shines smoothly in teamwork.
She was the tenth female cinematographer to be accredited by the Australian Cinematographers Society (in 2016) and has won numerous ACS awards. Her feature credits include shooting Celeste, directed by her frequent collaborator Ben Hackworth, Sucker, Looking For Grace, Three Summers, The Wedding Party and Ruth Borgobello's Italian Australian co-pro The Space Between, which was selected as Australian entry for Best Foreign Language Film at the 90th Academy Awards.
In documentary, Milwright's DP credits include Paul Damian Williams' Gurrumul and Matthew Sleeth's hybrid doc Guilty. She also shot the amazing music video for CocoRosie's 'Lemonade'.
But it's in television that Milwright's been especially busy, most recently shooting Werner Productions' teen drama Surviving Summer (coming to Netflix in 2022), shooting all eight episodes of Tim Minchin's Upright for Foxtel, and multiple episodes of Young Rock for Universal NBC. She was also setup DP for Tidelands, and for the first series of Josh Thomas's Please Like Me as well as a host of others.
So how easy has it been to make that career and what have the challenges been along the way?
In this wide-ranging and candid interview Milwright talks about the process of making the transition from camera department to Director of Photography; her love of an unpredictable work life, and what she sees as important issues for the industry to consider around expectations, work life balance and family sustainability.
How did you come to be shooting Jub Clerc's Sweet As in June/July 2021?
I came on board a couple of years ago when they were looking for their final funding. The first script they sent me, I just loved that whole world. I loved the tone of it, a teenage story loosely based on the director's own experience as a teenager on this photo safari trip around the Pilbara with a group of at-risk teens.
After working on Japanese Story in the camera department about 20 years ago I have a real soft spot for the Pilbara, so reading that location again also made me want to go back there badly, and with a great directing and producing team, it was very appealing. There were a few years where the timing was up in the air, but then it all happened at once and it was great to be up there with Jub Clerc.
She's just a divine human and a ray of sunshine. The fact that everyone was falling over themselves to work with her despite the budgetary constraints of a tiny film shot in five weeks in a remote and challenging location – living in mining camps the whole time – that tells you a lot about her!
Tell us about living in the mining camps?
It wasn't too bad. The food was actually pretty good, but it was just such a weird space to be in. It's whisper-quiet walking through the camp because people do shift work and could be sleeping. It's like living in inside a completely sealed off refrigerator, dark and quiet and with air conditioners running 24/7. A pretty weird and non-human environment.
But getting to shoot a film in the Pilbara, somewhere not many people get to go to, that was a rare privilege. It's as far away from living in Melbourne as you can get. At first glance it's kind of bare and harsh, but it's full of so many intricate details and mysteries. Every day I felt grateful.
What were you shooting on and what is the visual style of Sweet As?
We were very fortunate to be well looked after by one of the camera rental companies that had just done the Netflix series I'd worked on, and they furnished us with a mini LF (large format) ARRI and these beautiful Cooke S7 lenses, which I've always been a fan of. Cookes are usually out of your price range on a lot of low budget films. I was very lucky to have the opportunity to use that kind of equipment.
We shot with a really tiny crew in a short period of time. A lot of the visual references were handheld films, and it felt really right to take the film in that direction and be responsive and very present in the space with the characters.
A lot of the film I did off the shoulder or on an EasyRig and finding portraits really quite close to the lead actress. She's an absolute legend of an actor, she's going to be a superstar. Shantae Barnes Cowan, who's been doing Firebite with Warwick Thornton and just came off Wyrmwood.
Do you prefer shooting feature films as opposed to TV?
There's something really nice about feature films in that it's all about one director and their singular vision for a project, whereas with television there's usually multiple directors and a showrunner. Both have advantages and it's nice to mix it up. I'm always trying to refine my processes, and bring a new trick with me each job.
I've been very fortunate to work on a few features now, at least eight I think, usually not very big budget films, so it's all about trying to be resourceful working down on that smaller scale of things. I'm always trying to refine my processes, and bring a new trick with me each job. You've also got to refine your processes with each job to suit the personalities you're working with.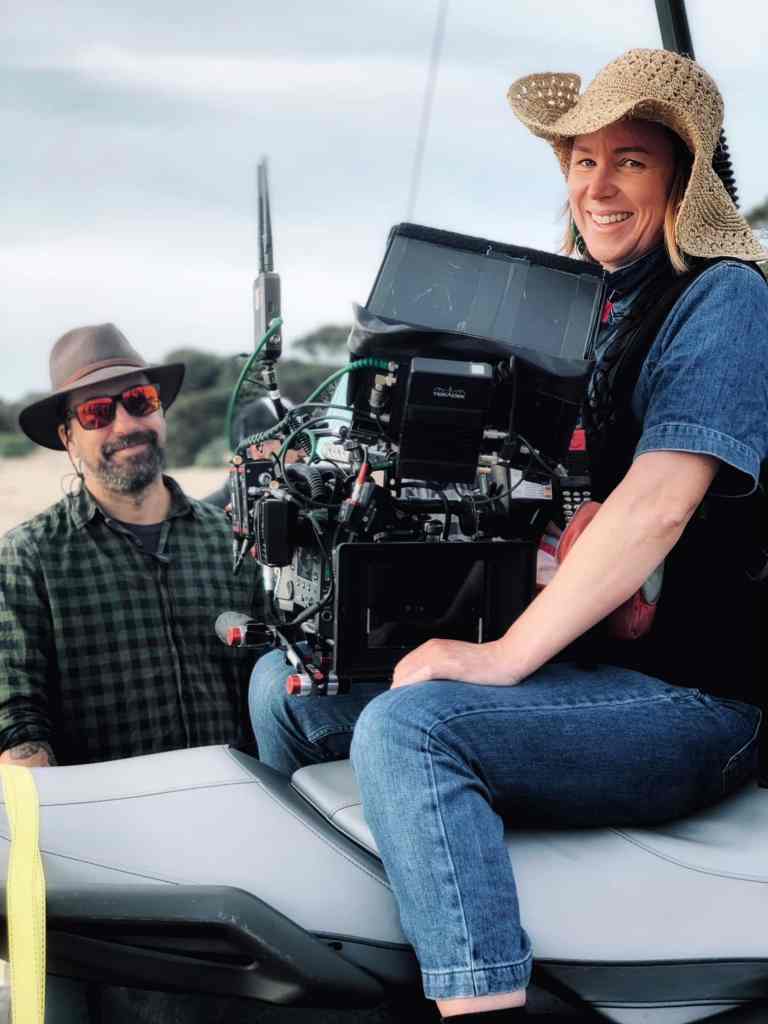 What are the elements of good early conversation between a DP and a director?
I try to understand the script in the same way they do, to get on the same page and find out what they feel about certain themes. Like, is this part meant to be funny? Or not funny? There might be descriptions in scenes which feel really important as a DP, but then talking to the director you see it's not central. You want to work out what the intention of each scene is.
Usually, by the time you're working on a particular film there's some kind of lookbook, particularly with TV too. So you've got some good visual references that everyone can start to agree on.
Have you always been interested in visual storytelling?
Yes, from the very beginning of being interested in film I wanted to construct imagery to tell a story. At film school I didn't know exactly what I wanted to do, but in hindsight, what I liked about filming was this construction of the visual, being on set and actually building this thing on a daily basis. I was less interested in the post or pre, or writing, or any of that.
When I started I probably thought filmmaking meant being a director, but the more I had the chance to shoot films, the more I found that was what excited me. I ended up shooting a few graduate films in the year that I graduatd, as well as directing my own film, and felt more proud and excited about the films that I shot. I ended up winning the Kodak cinematography award that they give out at the end of the year, and that really made me think I could do it. It was important at that point because it made me see myself in a different way.
You were mentored by Mandy Walker after graduating?
I got the chance to be part of this mentor program that the VCA ran where they would pick a student out of the art school and dance school and film school and team them up with someone that they really admired and wanted to work with for 12 months. Not a paid position, but just to have as a mentor. They hooked me up with Mandy Walker, who is you know, one of Australia's most amazing cinematographers. She was still living in Melbourne at the time and was on the rise. I spent 12 months sort of annoying her, turning up on set, going through some grades with her and getting to show her some of my work at that point, which wasn't very much.
That was my first time on a professional film set, and seeing how that ran made me want to be a part of the camera department. After that I became a clapper loader and worked on as many feature films as I could for the next eight years.
Was there ever a period where it was really hard to get work, or to get the kind of work that you were wanting?
It felt like it was really slow going at the beginning, but in hindsight it was quite quick to get to a level of experience and be working on feature films, which was what I wanted.
During that time I'd kept shooting other things in between jobs. Short films or short music videos. I had a back catalogue of work before I became a DP professionally. I'd had some really lucky moments where directors that I'd done short films for were getting funded. Ben Chessel got SBS short feature funding for a 50-minute film called Heartbreak Tour, and I got to shoot it.
That was the point I sort of put a pin in my camera assisting career. I thought, 'this is my opportunity to step out of that and step into cinematography'.
They were the hardest years after that, where you're trying to get your real kind of interesting credits that pay money as well. It's not just all these weekend short films that you're working on and music videos where you're not really paid anything but building up the reel. You're trying to get money to survive on. At the time it felt long and hard, but it was a bit of a blip really.
What kind of a person do you need to be to deal with the uncertainty of a career like this? Do you like that aspect?
I love that! It's so weird, because my friends from high school think it's absolutely terrifying, that idea of not knowing what happens in two months' time, but I suppose because it's always been like that it sort of feels thrilling, and you learn to trust that you're not going to be living in a cardboard box.
How do you cope when you miss out on a project?
I've learnt that if you miss out on something, there's always something else. And it might not be exactly what you want, or exactly what you thought you wanted, but it can be great. In 2010 I got the opportunity to go and shoot a commercial for World Vision in Uganda, which came up about three weeks before I left for it. Once you're available, there's an open door for what's coming next and all these strange adventures appear.
Has it been challenging to have a family with that kind of life?
Definitely. I probably couldn't jump on a plane in three weeks' time and go to Uganda now! Having said that I have a very supportive partner and if a job comes up, and we discuss the merits of doing it, we manage to find a way to work it out.
My partner is in the industry as well, and sometimes it can end up being a little bit more unfairly biased towards me working away rather than him. But yes, somebody has to be at home. Somebody has to be there and be the parent. I absolutely need and value that support to be able to keep working on anything out of town and I know some people don't have that luxury.
If you could generalise, are there any particular personal or professional qualities that make someone a good DP?
Whatever you do within the film industry you need a level of grit. You need to be able to persevere when things aren't going exactly as planned because nothing in life, or on a film set, will go exactly as planned. You have to be able to push through and keep going and find a solution.Whatever you do within the film industry you need a level of grit. You need to be able to persevere when things aren't going exactly as planned
Being easygoing under that sort of pressure is important, not just for your own mental health, but for your team. You're a team leader, essentially, and there's a  trickle down effect from the way you behave. It affects the rest of the crew.
You wrote a piece for the ACS reporting on gender conference in 2016, and you said: 'On-set life has changed in a very positive way for women since I've been in the industry' while also saying there was a way to go. But how has life changed for female DPs since you started?
I have always felt I was in a really lucky position because I worked with so many women when I started. In Melbourne at the time, when I was assisting, I was working with Trish Keating and Jude Lovatt and Kathy Chambers and Fran Bosch. If you looked at the percentages of women in camera assisting we were still in the minority, but I seemed to be working with them all.
At times I have found myself on sets where I was the only woman in a camera department and that can feel uncomfortable. Certainly, there's usually another woman in my camera departments. It's usually about 50/50 and having that sort of parity on set feels like a nice thing.
I'm hoping we are having more respectful conversations now, which even goes so far as to having intimacy coordinators on set, which is a huge and welcome change the gung ho attitudes when I began working.
Do you think there are any urgent problems or issues in the screen industry that we should be talking about more?
The US union action and calls for better conditions have some resonance here. People want adequate breaks between finishing your day and starting the next one, and appropriately spaced meal breaks. They want to challenge that expectation that you don't stop, you just keep going and if you complain about it, then you don't get the next job because you're seen as 'hard work'.
There is this expectation that you give everything of yourself to your job because you love it and you're lucky to have it. I certainly feel like I want to do that sometimes, to give all of myself to it …. We need to find a way to work that's a bit more sustainable.
There is this expectation that you give everything of yourself to your job because you love it and you're lucky to have it. I certainly feel like I want to do that sometimes, to give all of myself to it. And as a head of department there are so many things you are responsible for. But that's not always healthy, and it's not healthy as an industry to have those expectations. I don't think that's a sustainable way of working perpetually, and people break, and families break. We need to find a way to work that's a bit more sustainable.
People keep saying things about like, 'Oh, how do we get more women on set? Do we need a crèche on a film set?' That's a terrible idea! You don't want to get your kid up at 5am to put them in a crèche with a whole bunch of new people. The disruption of that to the life of your child just sounds awful. What about just having working hours that were a little bit more inclusive to people who have family?
Also, people need their weekends, so you can't send them 100 emails and expect them to get back to you all weekend.
And what do you to relax?
I'm trying to find myself a hobby. My partner said to me the other day, 'What are your hobbies Katie?'! So I'm just trying a few different things, cooking and reading and learning to skateboard. Anything that's not filmmaking. For the time that you're on a project, you're sort of gone to your family, whether you're in the same city or not. Your head is somewhere else, but I'm trying to find those things that have nothing to do with work and help me connect back to home and family.
Finally, what can you tell us about Surviving Summer?
It was a great fun job to shoot, with three terrific Directors: Ben Chessell, Charlotte George and Sian Davies. I also got to work with Steadicam Operator Matt Dobson, Gaffer Tim Goodacre and Key Grip Dan Mitton. Such a brilliant team This is the first long TV or film that I've made that my daughter will be able to watch and she's very excited to see it.
Katie Milwright ACS can be found at her website is here, and she's represented by Yellow Creative Management.