Gideon Obarzanek
Choreographer, Directors
---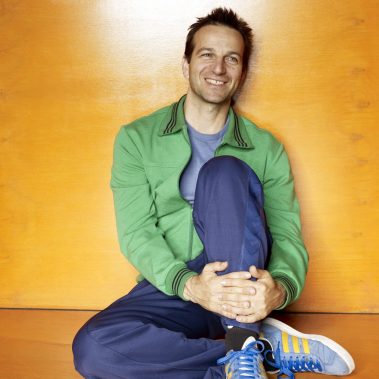 Gideon Obarzanek is a director, choreographer and performing arts curator. He is currently Artistic Associate with the Melbourne Festival, co-curator for the inaugural Asian Pacific Triennial of Performing Arts and Chair of the Melbourne Fringe Festival.
Gideon founded dance company Chunky Move in 1995 and was CEO and Artistic Director until 2012. His works for Chunky Move were diverse in form and content including stage productions, installations, site-specific works, participatory events and film. They were performed in many festivals and theatres around the world including Edinburgh International, BAM Next Wave NY, Venice Biennale, Southbank London and all major Australian performing arts festivals.
In 2017 he co-directed and choreographed ATTRACTOR with Lucy Guerin for the inaugural Asia Pacific Triennial of Performing Arts (Asia TOPA), WOMAD & Brisbane Festival. In August 2016 with actor/writer Brian Lipson he co-wrote and performed TWO JEWS WALK INTO A THEATRE at Artshouse Melbourne.
With actor/writer David Woods, he created L'CHAIM for the Sydney Dance Company followed by a VR film adaptation, STUCK IN THE MIDDLE WITH YOU. In collaboration with filmmaker Mathew Bate, this was the first Virtual Reality film commissioned by the Australian Centre of Moving Image.
As Associate Artist at The Sydney Theatre Company Gideon wrote and directed the stage play DANCE BETTER AT PARTIES. He then co-directed the documentary/drama film DANCE BETTER AT PARTIES with filmmaker Matthew Bate, which won the 2014 Sydney Film Festival's Dendy Award for best short film and was broadcast on ABC TV.
In 2012, Gideon choreographed and wrote THERE'S DEFINITELY A PRINCE INVOLVED for The Australian Ballet's 50th anniversary season and the following year was awarded a prestigious Creative Australia Fellowship to further research with other film, dance and theatre makers, new works that would be simultaneously created for both stage and screen.
In collaboration with Lucy Guerin and Michael Kantor, Gideon received a New York Bessie award for outstanding choreography and creation for Chunky Move's production of TENSE DAVE. In 2008 he received two Australian Helpmann Awards for GLOW and MORTAL ENGINE.
Gideon's film, DANCE LIKE YOUR OLD MAN, co-directed with Edwina Throsby, won best short documentary at the 2007 Melbourne International Film Festival, 2008 Flickerfest International Film Festival and the 2008 Cinedans Film Festival in Amsterdam.